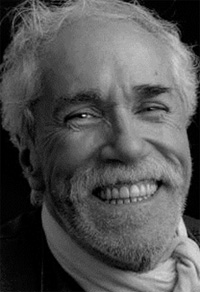 Hilton McConnico was born in Memphis in 1943 and is simultaneously a painter, interior designer, photographer, designer, scenographer, and set designer.
He has lived and worked in Paris since 1965. He spent several years as a fashion designer at the most prestigious Parisian fashion houses before moving into film. He designed the sets for over 20 films, including François Truffaut's "Vivement Dimanche". In 1983, he was awarded the César for the best set design in "La Lune dans le Caniveau" by Jean-Jacques Beineix.
His sets always have a touch of humour and the fantastic, and have earned him a reputation as one of the most creative and well-rounded artists of his time. He also designed the window displays at Galeries Lafayette, as well as working on several exhibitions for Hermès, marking 20 years of loyal collaboration. He also designs the interiors of the brand's Seoul and Tokyo museums.
Hilton McConnico has received numerous awards for his work. The past 20 years have seen successful collections for: Daum, Cristalleries de Saint Louis, Toulemonde Bochart, Lampes Berger, Arthus Bertrand, Formia Luxury Glass, and more. Some of them, such as the Daum Cactus, the Toulemonde Bochart Piment rugs, or the poster for the most recent Crazy Horse show are part of permanent collections in museums the world over. In 2006, he received the "Talent de l'Audace" prize for the achievements made in his career.
In 2011, Frédéric Mitterand decorated him with the Légion d'Honneur.